Pinnacle Inspections specializes in complete Home and Commercial Building Inspections, Performance Testing, (Duct and Blower Door), Energy Star Certification and HERS Ratings | Energy Modeling
When you choose to have Pinnacle Inspections perform your inspection, our support doesn't end with the inspection and report. We provide ongoing support to you via email, phone calls, with our extensive knowledge base of information. Call us to review our home inspection checklist and our home inspection costs.
Energy Modeling
HERS Ratings
Building Diagnostic Testing
ENERGY STAR® Verification and Certification
Code Compliant Blower Door and Duct Leakage Testing
Single Family Inspections
Multi-Family Inspections
Condominium Inspections
Commercial Retail/Office/Warehouse Inspections
Apartment Buildings
New Construction-Residential/Commercial QA
Construction Defect Inspections
Infrared Thermal Imaging
Infrared and Electrical Impedance Roof Moisture Surveys
Radon Testing
Investigative Inspections
Expert Witness Testimony
Moisture Intrusion Testing and Inspection
…and others are just a few of the Inspection Services offered to determine the best solutions to pursue according to budgets and project outcomes.
With over 8000 completed inspections, 16+ years inspecting and testing, 30 years of building luxury homes and commercial construction, Pinnacle is the leader in the inspection industry. We provide you Professional, Independent guidance and support. Let us help you navigate one of the most important purchases of your life. A quality, efficient and thorough inspection and verification can help you complete this process.
Trust Experience, Trust Pinnacle
Schedule your inspection today: (719) 888-0565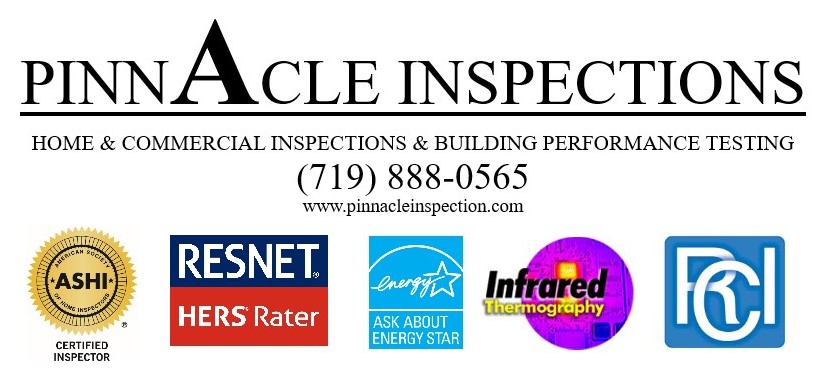 15330 Terra Ridge Circle
Colorado Springs, CO 80908